Crawford County Circuit Clerk's Office!
Mission Statement
To secure, preserve and make available recording and court records, upholding the highest standards of integrity as public servants, maximizing the use of technology and electronic services, while providing the utmost accurate, professional and efficient service to our community.
Vision Statement
The Crawford County Circuit Clerks Office strives to be a technologically advanced organization focusing on delivering outstanding customer and employee satisfaction in every aspect of our operations.
We take pride in working as a team, and pledge to: 
Perform our duties with courtesy, respect, equality and fairness, in an accurate and knowledgeable fashion;

Strive to improve the quality of our services, thereby promoting public trust and confidence; and

Encourage education and pursue training programs to adapt to the growing needs of our community.
Who We Are And Our Duties 
 The Circuit Clerk is the Ex-Officio Record and Clerk of the Circuit Courts of Crawford County. 
Administrative duties of the Circuit Clerk are to maintain a record of all proceedings of the Circuit Courts and to prepare the dockets for these Courts. The Circuit Clerk issues summons, warrants, subpoenas and writs authorized by the Circuit Court for delivery by the Crawford County Sheriff. The Clerk also maintains a file of all cases pending with the Circuit Court, as well as a record of all past court cases and their depositions.
The Circuit Clerk is also the Ex-Officio county recorder; and is responsible for recording deeds, mortgages, liens, and surety bonds, and many other orders and instruments which involve property within the county. The Circuit Clerk maintains a record of many miscellaneous items, and files certain licenses. The Circuit Clerk also swears in notaries public.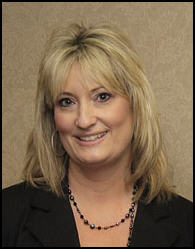 Sharon L. Blount-Baker
Crawford County Circuit Clerk
and Ex-Officio Recorder